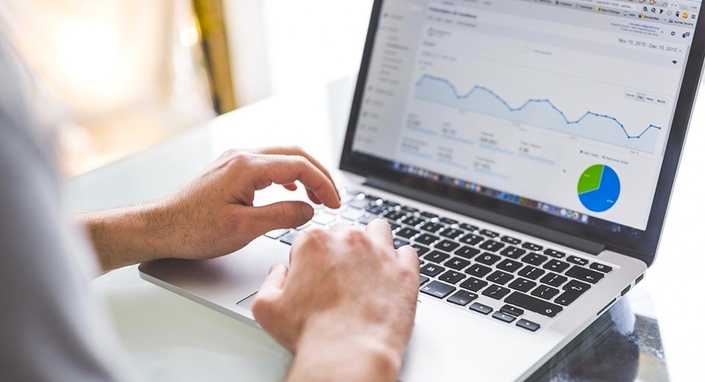 Insider's Guide Trading Service (IGTS) 2018
Learn how to trade smarter — for consistent profit.
There's only ONE way to make real money trading — get CONSISTENT.
If you are like many of the aspiring traders I work with, you've been burned more than once by "hot tips," you've enrolled in countless courses about trading, and you've tried these so-called "proven" systems only to get disappointing, inconsistent results. You've probably even bought more books than you might want to admit.

You know there's profit to be had in the financial markets — but you just can't seem to get it. You're trying very hard to learn how to do this by yourself, but your frustration is reaching its peak.
Or maybe you've taken one of my courses, but you're having trouble implementing what you learned. Guess what? You are not alone. A great many traders and students are overwhelmed by information overload; they just don't know where to start or how to begin.
Here's the thing: most of the roadblocks in your way are there simply because you don't know what you don't know.
This makes profitable trading one of the most frustrating and elusive pursuits. It is the reason so many people continue hopping from one inefficient trial-and-error strategy to the next — with little or nothing to show for it.
Here's something no "trading expert" is telling you.
Spending your valuable time, money and energy "chasing the dream" is a minefield, filled with fear, anxiety and hidden stress.
Extreme loss and frustration takes a lot of traders out of the game for good — because they become emotionally attached to winning and losing. It can be difficult to recover from the psychological scarring.

Now add the deep mistrust spawned by aggressive online marketing. Course after course filled with empty promises, re-packaged useless information and bogus internet hype all take their toll — serving only to kill your incentive and waste your time.
Trading is one of the few industries where people will attempt to play the game without ever really learning how. Those claiming to be teachers, more often than not, cannot do. And the Internet has done a disservice by setting the bar too low for anyone who wants to sell a trading system or strategy (that may or may not actually function).
To add insult to this injury, you find out the system itself is rigged. And the longer you don't know how to play the game, the worse it gets — because you have to trust conventional investments like mutual funds and traditional "buy and hold" investing.
Despite what we've all been told, these avenues have a multitude of hidden risks never addressed by the industry or its experts; high annual fees and global banking systemic risk is just the tip of the iceberg.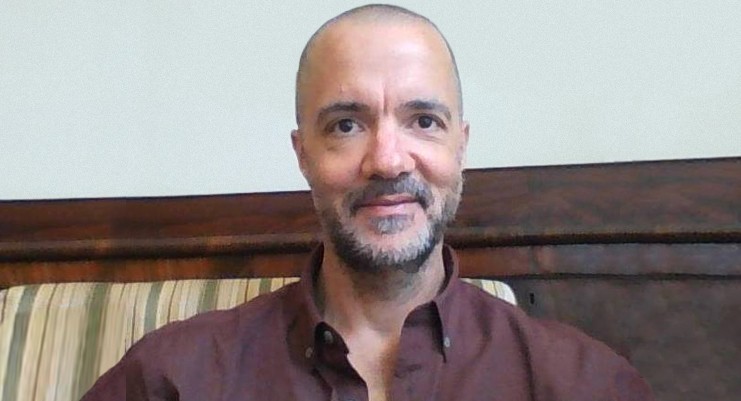 There's a solution — but it's not what you think.
The Insider's Guide Trading Service was designed to fill the gap between education theory and real-world trading skills — the kind that you only get from a veteran trader with years of "hard-knocks" experience.

I created it to be the antidote to the overwhelming insincerity and misinformation rampant in the trading education industry.
My students and traders around the globe have experienced tremendous breakthroughs in understanding risk as a tool. They've learned to leverage that tool to spot low-risk, high-probability market entries.
And yes, some of the traders I've taught have gone on to make a great deal of money.
Here's a quick example:
"Thank you for changing my life. Rode CRON and made enough profit to put an down payment on vacation house out of state." - Leon Y.
This is math, not magic. It's the value of quality education with hands-on experience, and it presents life-changing possibilities.
Because I insist helping all students cement the learning process, I must LIMIT access to 50 students.
Learn to USE risk to your advantage.
Risk-based trading is the cornerstone of every trade I take, and the basis for all my teaching. Learning to identify risk in all its forms — and understanding how to read and react to it — results in big breakthroughs for traders of all experience levels.

My service shows you how risk can (and should) become your go-to tool for analysis, along with account and trade management. Once you learn to ONLY risk 1X (x being any amount you choose), you will learn to ensure that you have 3X or more expectancy every time you pull the trigger.

This is how you learn to spot low-risk, high-probability entries that profit 5X — or even 10X or more.
The simple math I'll teach you will make it immediately obvious how consistency can be assured over time.
You'll learn the process of risk-based trading from analysis to action from a professional trader who does this every day. This type of setting shortens your learning curve and catapults you to success much more quickly.
This is what separates my service from the "stock pick" products and worthless courses littering the internet.
Access to Weekly Q&A sessions with me will help integrate the principles of trading and speed up the learning process — strengthening your skills and growing your confidence.
You'll get advice, support and encouragement as we take the journey to consistency together...for as LONG as you need it!
Seating for the Insider's Guide trading service is LIMITED to 50 students. This enables me to provide exceptional, unparalleled group mentoring!

BONUS: get my NEW premium trading course FREE.
As a bonus, if you enroll today, I'll include FREE access to my premium course, Mastering Price Charts: How To Trade.
The world of technical analysis is an unregulated, muddled mass of strategy, hope, desperation and frustration. There exists no formal, accredited institution for proper knowledge and procedure. Most participants never make a dime.
This is the only industry on earth where those who have no business in the game will attempt to compete with the sharpest minds and largest accounts on the planet.
This course is a perfect solution for beginners and experienced traders alike. It fills the need for a simple, timeless method of structuring price-chart analysis. It further closes the gap between knowledge of technical analysis and real-world skills and controlling risk and will demystify the price-chart for experienced investors and traders who never learned proper price-chart structure.
You have to know what you are looking at when you see price-chart intervals. This course will make you competent.
Fear and greed permeate financial markets. Risk for most traders and investors is seen as something to be feared. I will show you how to use it as a tool. Once you understand how to exploit price-chart structure, risk becomes a powerful ally.

If you have the desire to turn price-charts in to profit, I can help you...

Learn the mechanics of price and how you should use them
Read order flow and market sentiment in the chart like veteran trader
Use context to qualify price-action
Determine the LRE (Low-Risk Entry) on ANY interval
Consistently take entries with the greatest expectancy
Master the chart and pull profit from it like a seasoned screen-trading veteran. It's yours absolutely FREE when you enroll!

In fact, it is a prerequisite for beginning the Insider's Guide curriculum.
Imagine feeling like you are definitely on the right path to consistent profits. Once you know how to trade you will be able to end the search for the trading "grail."
And you can finally spend productive time getting the right experience rather than taking more courses and searching aimlessly for direction.
Enroll TODAY and launch your trading career!
Your Instructor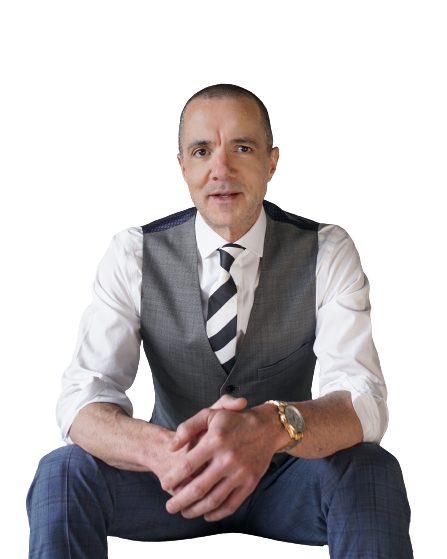 My goal is YOUR success.
If you're like most of the students I work with, you've taken countless courses about trading. And you still feel like you're not making any progress.
That's because knowledge about trading and strategies doesn't always result in success; understanding a method or trading system doesn't necessarily make you a trader.
It may be that you just haven't learned how to trade — how to manage risk and random outcomes. And the thing is, that's not your fault. Here's why.
Most courses teach strategy, and little else. Strategy, however, is only useful if you understand the mechanics of price and how to interpret Market Dynamics (expansion and contraction) in a price chart.
All of my courses and training not only teach key market dynamics and how to exploit price movement for profit, but they also teach you HOW TO TRADE.
I work with traders of all skill levels, and I respond to all curriculum-related questions promptly. If you're are serious about trading for consistent profit you need to work with me directly.
45,000 students in over 153 countries have already put themselves on the path to consistent profit.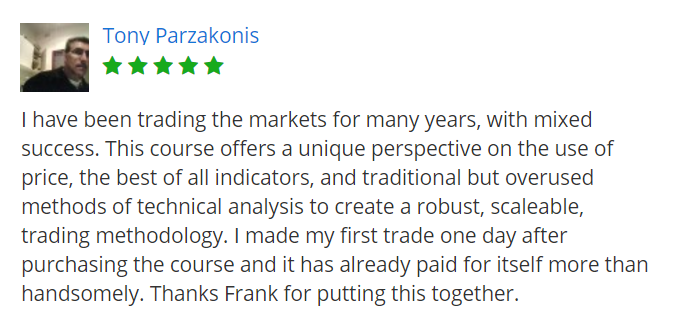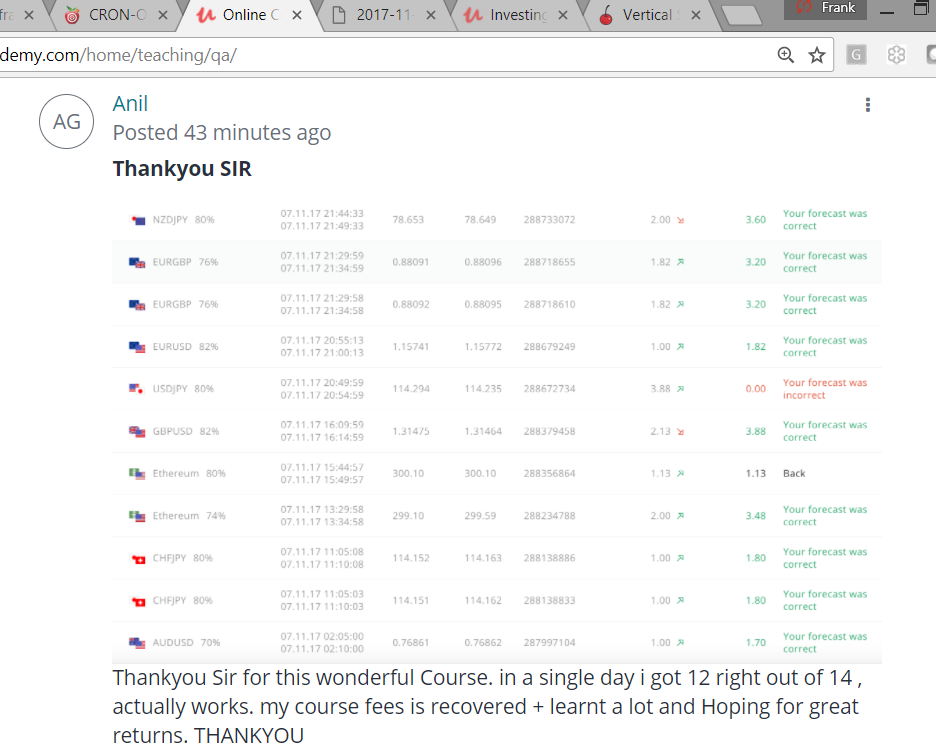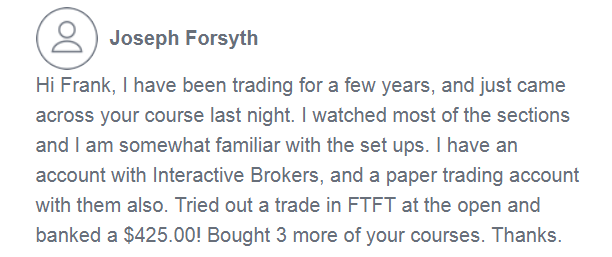 Course Curriculum
IGTS 2018 OUTLINE
Available in days
days after you enroll
INSIDER'S GUIDE Trading Service
Available in days
days after you enroll
WEEK 1: The Scan
Available in days
days after you enroll
Frequently Asked Questions
Is the INSIDER'S GUIDE for me?
You should have access to U.S. domestic equity markets. You should also be sufficiently funded depending on the intervals and markets your trade (short interval, $25,000 USD, long-intervals $10,000 USD). English should be your primary language. Your primary interest should be scan/discretionary setup trading (single + multiple markets).
How does the service work?
Each week you will receive a new lecture + bonus lectures and recorded Q&A sessions. This is a self-guided curriculum that will have you "hands on" from the first lecture. Training session will detail the lowest-risk entries, how to identify them and tips + tactics for trade management. After you have learned how to trade, you can begin to test/sample the scans you will be taught to create. When you have achieved consistency in simulation, live trading can begin.
What if I no longer need the service?
The concept behind the INSIDER'S GUIDE is that at some point you should no longer require your instructor's assistance. Once you know how to trade and manage the low-risk entries, you can cancel at any time. You may also cancel at any time for any reason. 100% Guaranteed.